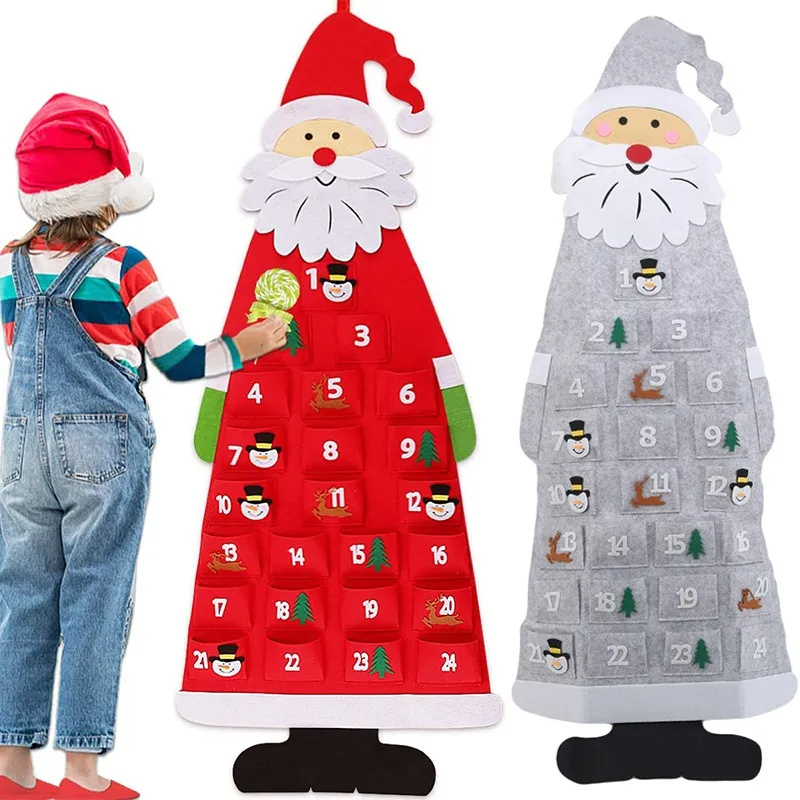 With our Advent Calendar Fabric Christmas Hanging Pendant, you can make the holiday season even more fun and unforgettable. This lovely and interactive ornament lets you and your loved ones to count down the days before Christmas, bringing excitement and joy into your house. It's a lovely and adorable addition to your holiday decorations.
Product Features:
Festive Design: Our Advent Calendar features a charming and festive design that captures the essence of Christmas, including holiday motifs, snowflakes, and classic holiday colors.
Durable Fabric: Crafted from high-quality and durable fabric, this hanging pendant is designed to withstand years of holiday celebrations and countdowns.
Numbered Pockets: The calendar includes numbered pockets, perfect for stashing small surprises, notes, or treats for each day leading up to Christmas.
Easy to Hang: The calendar comes with a convenient hanging loop, making it simple to display on your wall, door, or mantle. It adds a delightful and decorative touch to your home.
Family Tradition: Create a memorable family tradition by counting down to Christmas together, sharing the excitement and surprises hidden within each pocket.
Customer Reviews:
Sarah B. – ★★★★★ "I love this Advent Calendar! It adds a lovely touch to our holiday decor, and my kids look forward to opening each pocket every day. It's a great way to make the season even more special."
John M. – ★★★★☆ "We started using this Advent Calendar last year, and it's quickly become a family tradition. The design is lovely, and it adds an element of excitement to the days leading up to Christmas."
---
Make your holiday season more memorable and exciting with the Advent Calendar Fabric Christmas Hanging Pendant. It's the perfect way to create anticipation and joy during the countdown to Christmas.
Count down to Christmas in style with this charming hanging pendant. Order your Advent Calendar Fabric Christmas Hanging Pendant today and start a new family tradition filled with excitement and holiday spirit.
Related Post: