Fabric Doll Plush Toys for Kids – Our charming Fabric Doll Plush Toys are the ideal companions for children's play and hugs. These adorable and huggable dolls are intended to pique your child's imagination, give comfort, and build lasting memories. Our fabric doll plush toys, handcrafted with love and attention to detail, are the ideal addition to your child's world of play and adventure.
Product Features:
Adorable Designs: Our fabric doll plush toys come in a variety of cute and lovable designs, including animals, fairies, and classic dolls, capturing the hearts of children.
Soft and Safe: Crafted from high-quality and child-friendly materials, these dolls are soft to the touch and safe for kids to snuggle with.
Durable Construction: These plush toys are built to withstand the rigors of play and can be cherished for years to come.
Versatile Play: Whether for imaginative play, bedtime comfort, or a tea party guest, our fabric dolls are versatile and ready to join in on the fun.
Perfect for Gifting: Make a child's day with these dolls. They are wonderful gifts for birthdays, holidays, or just to brighten a little one's day.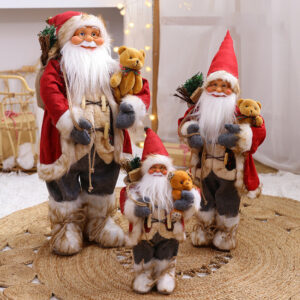 Customer Reviews:
Sarah G. – ★★★★★ "I bought one of these fabric dolls for my daughter, and she absolutely adores it. It's her constant bedtime companion, and the quality is outstanding."
Mike D. – ★★★★☆ "These fabric dolls are such a hit with my twins. They are well-made and incredibly soft. My kids can't get enough of them, and they make for excellent playmates."
---
Bring smiles, joy, and companionship to your child's life with Fabric Doll Plush Toys. These lovable and durable dolls are designed to be cherished and adored.
Add a huggable friend to your child's playtime and bedtime routine. Order your Fabric Doll Plush Toy today and watch your child's imagination come to life with their new cuddly companion.