Get ready to embrace the holiday spirit in style with our Christmas Head Buckles. These charming accessories add a dash of festive flair to your look, making them the perfect choice for holiday parties, gatherings, or just for adding some merriment to your day-to-day attire during the Christmas season.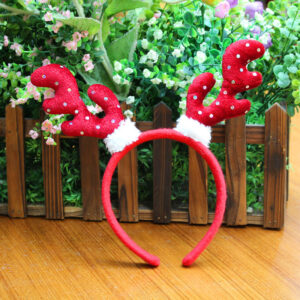 Product Features:
Festive Designs: Our Christmas head buckles feature a variety of adorable and classic holiday-themed designs, including Santa Claus, reindeer, snowflakes, and more. Choose the one that suits your festive mood.
Quality Materials: Crafted from durable and high-quality materials, these head buckles are made to last and endure the holiday festivities.
Easy to Wear: Each head buckle features a secure and comfortable attachment that ensures it stays in place, making it convenient for both adults and children.
Versatile Use: Whether you're attending a Christmas party, taking holiday photos, or simply want to feel the holiday spirit, these buckles are a fun and charming addition to your attire.
Ideal for Gifting: Spread holiday joy and cheer by giving these head buckles as gifts to friends, family, or loved ones, adding a touch of Christmas spirit to their celebrations.
Customer Reviews:
Jessica S. – ★★★★★ "These Christmas head buckles are such a fun and cute accessory for the holiday season. I wore one to our Christmas family gathering, and it was a hit! Everyone loved it."
Tom W. – ★★★★☆ "My kids loved these festive head buckles. They added a little extra magic to our Christmas photos and made the holiday season even more special."
---
Elevate your holiday style with Christmas Head Buckles. They are the perfect choice for adding a touch of Christmas spirit to your attire and making your holiday celebrations even more memorable.
Get into the Christmas spirit with these festive head buckles. Order your Christmas Head Buckles today and let the joy of the season shine through in your look and celebrations.
Related Post: